Delivery Areas and charges
We only deliver to areas within 50km of our store according to Google Maps, covering mainly KL and Selangor areas.
| | |
| --- | --- |
| | STEP 2 |
| STEP 3 | STEP 4 |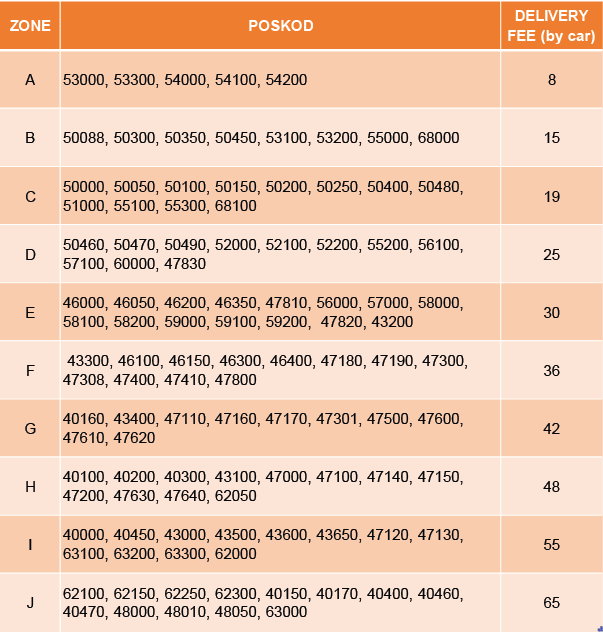 For deliveries to multiple venues or on different dates, or at different times, even under the same customer bill, will be charged as separate deliveries under separate orders. You will be required to place the orders separately on our website.
Orders are delivered by third-party vendors according to their terms. The drivers do not represent our brand, Oh Daily Dessert.
Delivery is non-cancellable and the delivery fee is non-refundable once the driver's route has been arranged by us.
Delivery Time

Customers are advised to select a time slot with these possibilities taken into account.
Delivery time changes can be made 2 days before the delivery date.
Please ensure that the recipient will be home before selecting a date and time on our website and proceeding with the order.
Kindly note that as we strive to deliver your order to you, there will be factors that could affect delivery timing such as early arrivals or delays due to traffic, weather, scheduled road closures, unforeseen circumstance, and circumstances beyond our control. Having said that, we are determined to deliver your bakes within the stipulated time slot selected by you.
Please opt for self-pickup or select an available earlier/later time slot if you cannot risk the items arriving earlier or later than a chosen time frame.
Delivery Status
As for now, we do not have a live tracking system for our customers yet. Rest assured, we will do our best to deliver within the time slot you have chosen. You also will receive a notification once the bakes are successfully delivered.
You can contact the driver for the estimated time of arrival (ETA). As the driver delivers to a few places in one trip following a planned route, they may only be able to provide you with the ETA at a later time depending on which stop they are at during the time of inquiry. ETAs are just an estimation.
Delivering
We do not provide door - to - door service for high-rise buildings and multi-storied buildings such apartment, condominium, malls, hospital, restaurant, and hotels.
Drivers will only pass the cake to the recipient at the drop-off point/lobby/ground floor of the building where the area is accessible by car with no parking required.
If the recipient is unreachable or delivery is unsuccessful the driver will bring the items back to our store.
Drivers will only leave the items on the delivery drop-off table, at the guardhouse, at the receptionist etc. only with the consent of the recipient/someone on behalf of the recipient. Where items have been requested/consented to be left somewhere, it is understood and accepted that the recipient/someone on their behalf is aware of the items' fragile condition.
The recipient who received the order is required to check that order received is correct and in good condition. They are encouraged to let the driver know (before the driver leaves) of any defect/damage if possible.
We will not take any responsibility for the item's condition once the item is left at the consented/requested place.
Changes
After ordering, address and time changes aren't possible for delivery efficiency. If necessary, you can FILL THE FORM 2 days before delivery date. Please note, extra charges may incur.
Mishandle or Damage
All orders are carefully checked and sent out in a good condition.
On rare occasions, different items are sent by mistake, kindly send a snapshot of the item and whatsapp us at +6019-3994614.
If an unlikely event does happen to the bakes during transit should this occur to a level you deem unacceptable, please inform us immediately or within 3 hours upon receiving it and refer to the returns and refund section
Oh Daily Dessert will assess and investigate the matter, and decide the next steps to be taken according to their discretion, taking into account all relevant factors.
Please note that once the payment is made, you have accepted and understood the terms of your order.